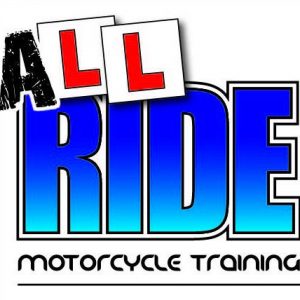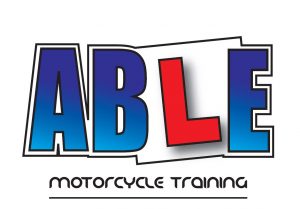 Welcome to ALL RIDE & ABLE Motorcycle Training. If you're reading this for the first time you must be considering taking the first steps to gain the sense of freedom and enjoyment found from riding a motorcycle; but if you're a returning student then welcome back! Whatever your intentions in motorcycling we are here to help you achieve them, you're never too old to learn to ride…
We offer expert DSA Approved Motorcycle training for everyone from the age of 16. Whether you are looking to obtain your CBT (Compulsory Basic Training) or moving on to your full licence, "All Ride or ABLE" can assist you.
For all of our training courses we are able to provide the protective equipment that you will need on the day, we have a range of Helmets, Jackets, Gloves limited trousers and boots  in various sizes but obviously we prefer you to use your own equipment if you have any.
If you live near Bath, Frome, Radstock, Midsomer Norton, Shepton Mallet or the surrounding areas then why not learn to ride with us on roads that are likely to be familiar to you., From ABLE our sister site in Trowbridge we cater for Bradford on Avon, Melksham and it's surrounding ares. We are under 10 miles from Bath and only 9 miles from Frome – only a short distance to travel.
To benefit our students whenever possible we try to book trainees of the same experience and ability together so they feel more at ease and can all learn at the same pace.
Our Training Courses – What do they involve?
A CBT- (Compulsory Basic Training)
Whatever motorbike you are thinking of riding from a 50 cc moped or larger a CBT is the first step you need. A CBT is a basic training course that everyone must complete before they are able to ride legally on the road and was introduced by the Government in December 1990, its aim to reduce the number of accidents involving motorcyclists on our roads and since its launch continues to do this by making motorcyclists safer riders. After successfully completing the training we know you will agree how important and worthwhile your day was with us.
The CBT syllabus is dictated by the Driving Standards Agency (DSA), you will start the day in our classroom, with a check of your UK licence and a short discussion on the different types of protective equipment that you should be wearing and why. We then introduce you to the Moped(50cc) or Motorbike (125cc) that you will be riding throughout the day and demonstrate and talk through the controls along with some basic maintenance checks that are advisable to do on a daily/weekly basis to keep your bike as reliable and roadworthy as possible.
We then move onto our training area where you will start to ride the bike, we will demonstrate and coach you in moving off in a straight line and as your ability and confidence grows we introduce other aspects of the training, allowing you to safely control your machine at all times in preparation for your road ride. If your instructor is happy that you are able to demonstrate a safe level of control in all of the areas that have been covered during the mornings training we will break for lunch.
(Lunch is normally around 30 minutes)
Back in our classroom there will be a pre-road ride safety briefing, where we will discuss elements of the Highway Code, recognising Road Signs, Road positioning and an explanation of roundabouts. We also talk through on what to expect and to be aware of whilst riding on the roads.
The Road Ride is the final part of the days training putting everything you have learnt from the mornings exercises into practice. You will be out on the road ride for a minimum of 2 hours with an instructor where we can cover up to 40 miles both on open roads and in the town so your safety is paramount. (The road ride is only open to the students that have been able to complete all of the mornings training successfully, thus demonstrating that they will be safe on the road, but don't worry there is no pass or fail so if our instructor thinks you need a further days training, we only charge you half the full fee for this extra day -Remember it's about our student, your son, your daughter, your husband or your wife's safety – but ultimately it's the riders responsibility to control the motorcycle whilst riding 
For further information or to make a booking, please use our "Call Us Now" button, fill out our online enquiry form on this website "Book A Motorcycle Training Course" or visit our Facebook page and enquire via Messenger. Whichever method you use leave us a message and we will respond, bearing in mind we may not be able to reply straight away as we may be out on the bikes training.
Thinking of Taking your Full Test?
To obtain any Full Motorcycle licence you have to follow a designated path.
Firstly: Complete a CBT- This Certificate lasts for two years from date of issue.
You will then need to pass a Motorcycle Theory test -(An app is available to download via Google Play or the istore to help you with this or you can buy a CD to play in your PC that give examples of the questions on the Highway Code and Hazard Perception that forms part of the Theory Test). The nearest DSA test centers to take this are in Frome, Salisbury or Bristol-
When you have passed your theory we will book you in to spend a day out on one of our bikes with our instructor who will provide Module 1 and some Module 2 training in preparation for your Module 1 and Module 2 tests.
You will then spend a weekday taking your Module 1 test with further training for your Module 2 test.
Finally you will spend another weekday having further Module 2 training followed by your Module 2 test.
The amount of training required for the modules will depend on your previous riding experience, we can advise on how much training we think you are likely to need when on your CBT course. If you already have a valid CBT then give us a call and we can advise you over the phone or we will arrange for you to meet us at our training area to evaluate how much training you will need. Our training days normally start at 9am and finish around 3.30pm (depending on test times, compared to other schools your normal day will include 5 hours of rider tuition)
< Visit our Training Course Information page for more details on types of Full Licences and the age you have to be to take them>
Whatever your enquiry we look forward to hearing from you.
Steve & Mark
Follow Us on Facebook and please remember to like & share our page too!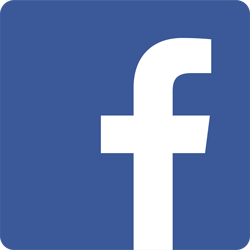 https://www.facebook.com/Allridemotorcycletraining/