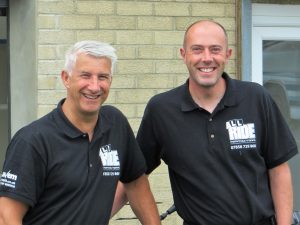 "All Ride" Motorcycle Training was born from our love of motorcycles and the enjoyment we have had training others to ride. We make use of the latest technology available providing a friendly and relaxed training environment, encouraging our students to learn from us at their own pace to become safer and considerate motorcyclists.
We are two motorcycle enthusiasts with fifty years motorcycling experience between us, riding both in the UK and Europe, and six years experience working as CBT & DAS instructors.
Steve Mawby lives in Trowbridge with his wife, children and his Cocker Spaniel. Steve is a tad over 50 and rides a Triumph GT Sprint where as Adrian Layfield  is slightly younger being a tad over 40 and lives in Westbury with his wife and tells his students he rides his Kawasaki ZZR 1400 mainly to get away from his mad house that is also full of animals.
Previously working for a local Motorcycle training school, we both take satisfaction in seeing our students flourish and grow in confidence during their training sessions with us and our aim is to deliver unbiased, professional training whatever your age, gender or level of riding experience. In short at All Ride we won't judge you, we will teach and coach you, with your safety our priority at all times.
Adrian and Steve decided in early 2017 that they wanted to start their own Motorcycle training school and after several months of searching for somewhere, in July their hard work paid off and are proud to have been able to find and open a premises that met their requirements. Based on the Westfield trading estate in Midsomer Norton, Radstock All Ride have an off road tarmac training area and a decent sized classroom allowing them to present the training syllabus in a relaxed comfortable environment. "We definitely wanted to offer something different to the "normal training school" that you find operating from an old damp lorry container unit or shed" In Radstock we provide the perfect learning facility with comfortable chairs, a well lit heated indoor classroom incorporating a decent toilet with a separate indoor bike storage area. Our students are invited to bring their own lunch but being located only a stones throw from Porkies Cafe, lunch is on the doorstep and our students are making use of their menu too.
Steve and Adrian are delighted to be able to bring their experience and offer their services to the local community of Midsomer Norton, Radstock and the surrounding area and i'm sure you will soon be used to seeing the "All Ride" students regularly training in and around the town.
We look forward to being part of your first steps in motorcycling or working with you to your full test, whatever your aim we look forward to welcoming you to "ALL RIDE"
From September 2019 we are pleased to have been selected and to work with Kawasaki's "Team Green" in the form of their Kawasaki Rider Training Scheme (KRTS). Any training enquiries for Bath and the surrounding area being allocated to us from this manufacturer.
From November 2019 we are delighted to have taken over ABLE Motorcycle training in Trowbridge. We will provide the same high level of training courses from this location as we do in Radstock.
If you would like to speak to Adrian or Steve please call us on 07858 729868 or via messenger on our Facebook pages.
If we don't answer we are probably out training so please leave a message and we will respond as soon as we can.